Ten-day course (ages 10-14, group size three to eight)
This course will appeal to children who are just beginning to learn English (beginners/lower intermediate) because the teaching is combined with many enjoyable afternoon activities linked to English culture and well known stories. This is the best way to absorb a language in a meaningful way.
This course is suitable for children newly arrived from abroad to live in Britain, children holidaying in the UK with their parents, a small group from a school, or for an adventurous child who wants to have a holiday all on their own!
Special pick-ups and drops, or full escorts can be arranged (from any UK city) if requested.
Telephoning home and emailing is available at all times and parents/guardians are invited to phone at any time. Also, if a family member would like to visit their child half-way through they are more than welcome to do so. There are many B&Bs and small hotels for a parent/friend to stay near by. On request, a parent can stay the first night in 'Trelugga', for their child to be 'settled', or can arrange to stay our Studio accommodation.
The special thing about this course is that it also offers the chance for children to escape from the constraints of living in a city, and to enjoy the freedom of living in the countryside away from noise and pollution. We suggest that our students embrace this opportunity to put aside their electronic gadgets!
Due to our rural location, close to the seaside, you will have the opportunity to  make sandwiches and go on picnics, go down to the sea to look in the rock pools, go pony riding, make a traditional fruit pie, sleep a night in a tent, visit a mixed farm, go blackberry picking, take a boat ride, visit a seal sanctuary and visit a chocolate factory.
You will be encouraged to speak English all of the time in Trelugga but also when you go outside you will be taken to the nearby cliff top cafe to order your traditional cream tea; you will go to an ice cream parlour and dairy farm to choose your ice cream; you will go to the local post office to buy your postcards and stamps (bring your addresses with you), ask for your tickets at the local art gallery, museum or theatre and you can practice speaking English to the guide when you go down the tin mine.
For the ambitious students you may like to write out your survey questionnaires and go down to our local fishing village to practice your questions! Or prepare some questions to ask a local conservationist.
Each day there will be a follow-up session to ensure that all new vocabulary, expressions and grammar have been understood and written down. Some of you may like to accompany this with keeping a daily diary, writing a picture poem or drawing some sketches of your experience that day.
In your free time, as well as relaxing and having conversations, we will encourage you to read novels in English, draw, paint, listen to music, and be creative.
Past pupils have collected and pressed local wildflowers, made traditional rosewater from the rose petals, made lavender bags to take home as gifts, taken superb photographs, and made collages of their experiences.
It is during this time also that you can seek out some extra individual help and practice in English should you want to!
Sometimes we will be out in the evenings, watching a film, going to the Minack theatre, going on an evening walk, or having a clifftop picnic.
When you leave this course, not only will your English have improved but you will also take back lots of happy memories of your time spent in Cornwall!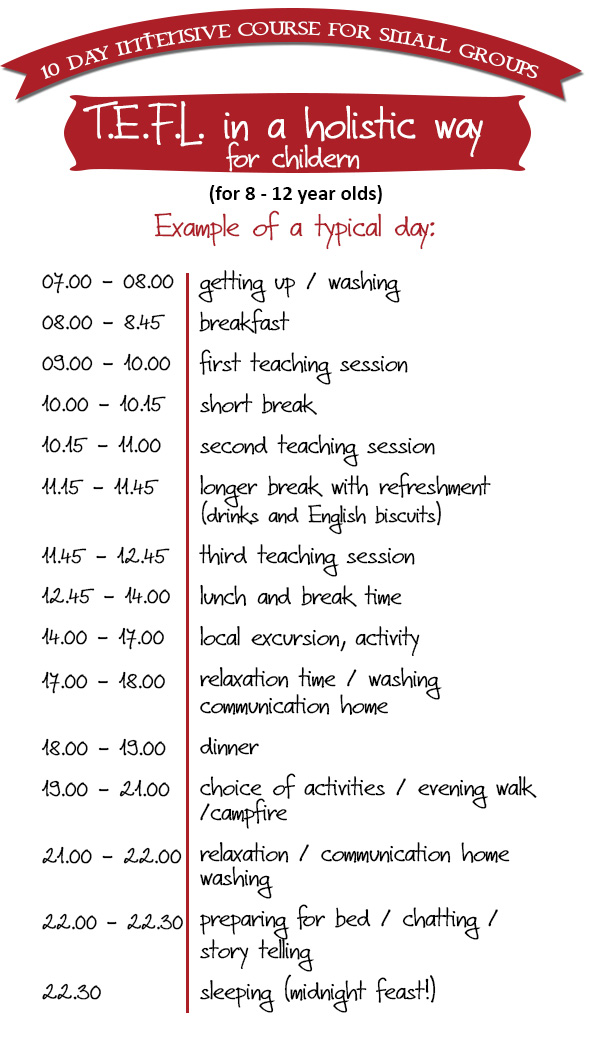 Mullion Chocolate Factory

The start of one of the local footpaths

A wonderful place to learn vocabulary!

At Windmill Farm there are over thirty species of dragonfly to see

In Trelugga all TEFL courses approach teaching English in a holistic way. Exploring and describing the heathland…..how many grasshoppers will we see?

Camp fire a wonderful place to relax and enjoy some hot jacket potatoes and hot chocolate…..we have camp fires on all courses